Another memorable day is just around the corner. Father's Day is on Sunday 19th June this year and is a chance to show your appreciation with a token of thanks for your Dad or the father figure in your life.
Sometimes it's tricky to choose a gift that shows how much we care, but if you're buying for someone who's trying to be kinder to the planet, we have your back with our guide to eco father's day gifts that will be sure to make them–and the earth–smile.
Eco Friendly Gifts For Father's Day
When it comes to finding the ideal gift for Father's Day, you may be looking for something "original" or "useful," but what about "eco-friendly"? Because, if we're being honest, we've all received a gift that was just thrown away after a few months. So, instead of contributing to all that waste, think about being more environmentally conscious when it comes to gift-giving and get Dad an eco-friendly gift—not only will he enjoy it, but so will the Earth!
Whether your Dad is vegan, plastic-free or just an all-around eco-warrior, we have some great suggestions for you.
Plastic Free Coffee Pods
If your father figure is a coffee connoisseur, he's probably pretty unhappy about the waste created by coffee capsules.
In the UK alone, nearly 30,000 plastic coffee pods end up in landfills every month, where they won't break down for at least 500 years.
But luckily, there's a sustainable way to enjoy coffee capsules. Halo Coffee pods are designed to provide an eco alternative, filled with speciality grade coffees of the highest quality. Their pods are made using waste sugar cane, a by-product of the sugar industry, which means they are fully home compostable and much less waste in production.
Halo capsules, and all associated packaging, can biodegrade in as little as 28 days in home compost; it's the greenest coffee pod available.
Organic Cotton Sustainable T Shirts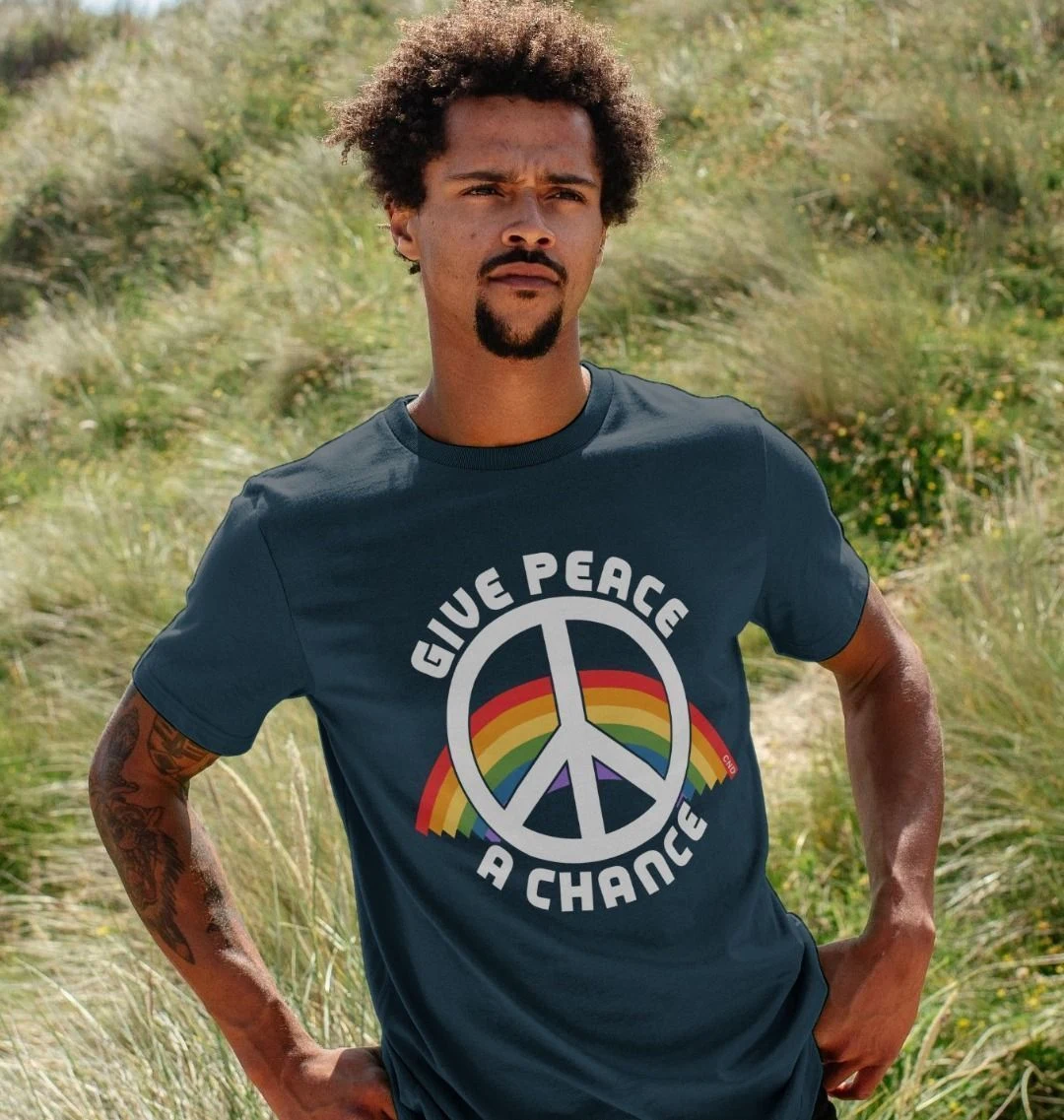 Some people like to wear their voice and have their message loud and proud across their clothes.
We love Rapanui clothes, a company with a lifelong mission to make clothes sustainable. They found that 100 billion clothing items are bought each year, and with 3 out of 5 t-shirts purchased today thrown away within 12 months, a dump truck of clothing will landfill every second - and set out to change that.
Their products are made from natural materials, using renewable energy, and everything they make is designed from the start to be sent back when it is worn out. They make new products from the materials they recover. Instead of making waste, they make new products from it, creating an authentic circular supply chain.
This organic cotton "Keep The Sea Plastic-Free" tee is a great conversation starter made in their factory on the Isle of Wight. Rapanui t-shirts are produced in real-time, in the seconds after they are ordered, making only what people actually need, when they need it. The conscientious application of technology has enabled them to demonstrate that there is a different way of operating, and it works.
Eco-Friendly Alcohol
The realm of alcohol production has historically been hard on the environment. Extensive packaging is often used, and the process uses a lot of water, heat, and energy. Luckily, many forward-thinking manufacturers are taking producing alcohol in a much better direction. Some makers are guaranteeing energy efficiency in the manufacturing process, repurposing products, and eliminating single-use plastics from the supply chain.
One of these exciting, green brands is Sapling Spirits. There are two things Sapling loves: great spirits and the natural world. When you buy from Sapling, you will enjoy delicious homegrown spirits and make the world a better place.
How? Made in the heart of the Cotswolds, Sapling use local ingredients to reduce transport emissions. Their base spirits are distilled four times from organic Wildfarmed wheat - in short; their farming methods create a more healthy, living soil while capturing loads of CO2 and massively increasing biodiversity.
They get their raw materials from as local as possible to their distillery in the Cotswolds - the wheat used comes from less than 50 miles away.
Their bottles are made from up to 40% recycled glass, 100% recyclable, and completely natural corks. They also plant trees for every bottle purchased.
Perfect as an eco father's day gift, Sapling vodka is both vegan and gluten-free.
An Ethical Watch For Him
If you're looking for a leather-free watch for your vegan Dad, look no further.
Votch was formed when its founder learned about the leather industry with a newfound vegan perspective on life; they wanted to create something where they could make a change in this world.
Finding stylish but cruelty-free accessories isn't always that easy, and finding quality faux leather can be even more challenging. Votch only uses cruelty-free materials, including a range of fabrics made from different materials such as Piñatex, a by-product from the pineapple industry, AppleSkin, a by-product from the apple juice industry, Enviroleather and stainless steel.
Their watches are always PVC and phthalate-free, with no plasticisers and are made with recycled and renewable content. All their watch straps are interchangeable, allowing anyone to switch up their look quickly and easily.
"Kindness is timeless", so check out Votch for one of the best eco gifts around.
Environmentally Friendly Phone Case
Whether they use Apple or Android, it's usually essential for your loved one to keep their phone safe from knocks and bumps with a stylish case.
It's estimated that there are 3 billion smartphone users out there, with 80% using phone cases to keep their phones safe, which means that over 2.4 billion phone cases are being used right now!
The problem is that most phone cases are made of plastic, which isn't recyclable, biodegradable or compostable. To make matters worse, more than a billion cases are produced every year, and this production rate is not sustainable.
We'd love to tell you about Wave Case, designed as a stylish yet biodegradable phone case made from wheat straw.
Wave Case wants to produce stylish and affordable products that make a minor change to your everyday life but significantly change your plastic consumption and aim to provide you with eco-friendly alternatives that have minimal impact on the planet.
They have a wide range of phone cases and accessories to fit nearly every phone, so you can rest assured your gift is eco-friendly and plastic-free.
Ethical, Vegan, Luxury Chocolate
There are very few people who don't love to receive a luxury box of chocs, something they wouldn't tend to buy themselves.
Kakoa, formerly known as The Vegan Chocolatier, offers award-winning milk, white and dark vegan chocolates in an iconic luxury collection. Made with rice and oat milk as an alternative to dairy, there is no compromise when it comes to flavour. Your loved one can enjoy their legendary sea salted caramel chocolate with its gooey centre or the ultimate peanut butter truffle, finished with salted peanut flakes for that extra nutty hit.
All the flavours of this delicious premium vegan chocolate are free from dairy, the perfect luxury gift for those with a dairy intolerance or those following a vegan diet.
Kakoa was founded in 2019. Since turning vegan, the founders saw a lack of premium vegan chocolate on the market, particularly milk and white chocolate. All their chocolate is made by hand using rice and oat milk to create some fabulous modern and innovative flavours. They also have concerns about the future of our planet, so all their packaging is 100% biodegradable—a really delicious treat for the Dad in your life.
Eco Father's Day Gifts For A Beginner Eco Warrior!
If your Dad is just starting his eco-journey but just doesn't know how our On The Go Hamper may just be the perfect eco-friendly gift for him.
Our 'On The Go' hamper is the perfect gift for someone who is always on the go! Be it travelling for work, weekend adventures or just journeys in the car, these items are great to help cut down the amount of plastic used when out and about.
Perfect for the eco-conscious traveller, this ethically made hamper includes a reusable coffee cup to keep their drinks warm and plastic at bay. We have chosen to use glass as a material so as not to affect the taste of any beverage, as metal or bamboo has been shown to leech harmful chemicals into the liquid inside. Their drink of choice will stay the way the barista intended.
There's a travel cutlery set with a full-sized knife, fork, spoon, chopsticks, and straw for meals on the go. This bamboo set has been designed to be reused on any outdoor occasion. It is made from FSC® 100% certified bamboo. These utensils are great for festivals, picnics, barbecues, meals on the go and camping.
Finally, there's an organic cotton tote bag that will expand and adapt to whatever is placed inside it—Goodbye plastic carrier bags.
This hamper is a good place for anyone to start their zero-waste journey and a stylish gift for father's day.
-
Wild & Stone's mission is to create stylish, easy to adopt and usable alternatives to common plastic products around the home. We source all our products sustainably, from raw material to final delivery. Shop our wide range today.
Share your ethical Father's Day gift discoveries with us at hello@wildandstone.com or tag us on Instagram #wildandstone.
Leave a comment
Comments will be approved before showing up.