Like many people, you are likely to find yourself joining in the Secret Santa tradition, either at your workplace or with your friend group. It's a great, and definitely cheaper, way to share the joy of Christmas, without having to buy for every person.
But, like us, you may find the badly made plastic junk or wasteful gag gifts are just not appealing to your eco-friendly values. Or maybe you have pulled the vegan on the low waste journey as your recipient? Either way, we have some Secret Santa gift ideas we'd think you'll love.
Thinking Outside The Box
Maybe the person you're buying your vegan Secret Santa gift for has enough stuff and doesn't need anymore? As with any gift recipient, make sure you consider their likes, wants and needs and tailor your gift to their preferences.
If the person you are buying for is close to you, perhaps you could offer them a handwritten token with something you are happy to do for them, like babysitting or a walk in the park when they feel blue. Perhaps you have a skill you could offer, like fixing their car or cutting their hair? These tokens can mean a lot to someone, much more than a novelty gift.
If you're creative or crafty, you could make them something: knit a hat, draw a picture of their pet, create a simple clay bowl or whatever you're good at. You'd be surprised how touched people are when the gift comes from the heart.
Our last suggestion in this section is to have a good look around your local charity shops for anything the person might like: hats, gloves, jewellery, books, etc. If you know the person you are buying for well, you might just find the perfect present there.
Vegan Secret Santa Presents For Under £20
One of the great things about Secret Santa presents is that they don't have to cost the earth, and this is true even when you're buying vegan gifts.
Here are just a few of our favourites, showing you how easy it is to buy vegan and ethically.
This candle is made for fellow coffee addicts looking for a pick me up at home or in the office. UpCircle uses repurposed ingredients to create hand-poured, cruelty-free soy wax, vegan candles, which are also palm oil-free.
The fantastic scent is created by being infused with coffee grounds that would have otherwise gone to landfill. The candle comes in 100% recyclable packaging too. This candle is a fabulous eco-friendly, vegan present.
This 100% vegan lip balm is made with the finest quality cold-pressed organic oils and pure essential oils.
It's an entirely natural product that has a list of eco-credentials and no chemical nasties - no parabens, sulphates, petrochemicals, phthalates - and no synthetic colours or fragrances. To top it off, the packaging is plastic-free too.
Boomtown is an award-winning ethical company offering lovely vegan gifts.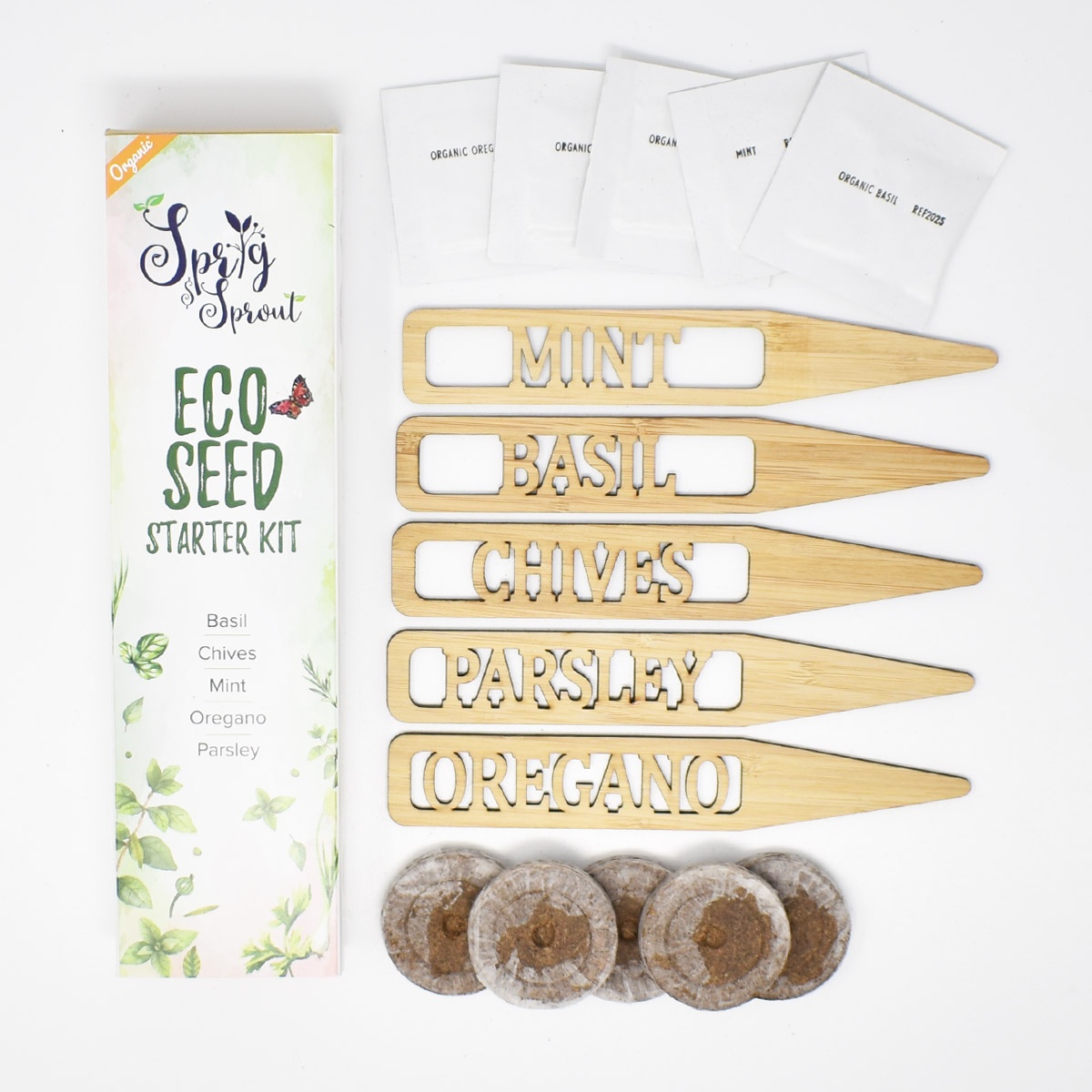 This beautiful mini herb growing kit would be an excellent gift for any gardener, aspiring plant grower or cook. It's suitable for indoor or outdoor use to grow fresh herbs all year round. The kit has everything anyone needs to start, including five essential herbs for any cook, bamboo plant tags, seeds and water-activated germination pellets, and full growing instructions. The kit comes in a cardboard, compostable box too.
This mini kit makes an ideal present for any food lover - and we think you can count most vegans in that.
Hampstead makes tea from plants that are grown organically and biodynamically. They were one of the first producers to carry the Fairtrade logo over 20 years ago.
From their 100% organic teas, plastic-free packaging to compostable tea bags, Hampstead tries to be ethical in every way possible. While their teabags might look or feel like plastic material, they are actually made from renewable wood pulp and are GMO-free, home compostable, approved for marine biodegradation and sourced from sustainably managed trees.
Their delicious Indian Chai is a treat for any tea lover, made with Darjeeling black tea, spiced with lemongrass, ginger, peppercorns, cardamom and cloves.
Nuddy has been on a mission to make a salon-quality performance shampoo without the wasteful plastic bottle. They didn't stop until they knew they'd created a high-quality shampoo bar, free of sulphates, parabens or phthalates that strip the hair.
All their products are vegan-friendly, cruelty-free and are proud to be 100% plastic-free and; unlike many shampoo bars, this one doesn't have a transition phase, and there should be a noticeable difference after just one wash. Another excellent British company whose packaging is entirely plastic-free too.
These delicious, vegan and organic truffles have won 21 awards so far, and it's no surprise - Booja Booja has developed a reputation for fantastic chocolate.
Booja Booja has spent the past two decades focused on one idea - to create delectable sweet treats made from a few simple, organic ingredients without using any animal products. These Champagne truffles are not only organic, vegan and (obviously) dairy-free but are also gluten, soy and palm oil-free too, making them a treat that's accessible to nearly any chocolate lover. These truffles make an amazing luxury vegan gift.
This natural body brush is made from FSC certified beechwood. This globally recognised certification means the wood has been taken from forests which are maintained, recognising the ecosystem of the habitat, indigenous people's rights of land ownership are recognised. There's a commitment to enhancing the forest used.
The sisal bristles are made of sustainable plant fibre, and the whole product is made from biodegradable, vegan and cruelty-free materials. You can be sure our products have been sourced and created consciously, creating a minimal social and environmental impact on their journey from raw materials to you.
And, if you're looking for gorgeous, eco-friendly wrapping paper for any of the gifts you have bought, check out our range of beautiful gift wrapping too.
Wild & Stone's mission is to create stylish, easy to adopt and usable alternatives to common plastic products around the home. We source all our products sustainably, from raw material to final delivery. Shop our wide range today.
Send us your pictures of the eco-friendly gifts you've found to hello@wildandstone.com or tag us on Instagram #wildandstone.
Leave a comment
Comments will be approved before showing up.