When it comes to buying gifts that are both vegan and eco-friendly, it can be challenging to find what you want on the High Street. However, in the age of online shopping, you'll be spoiled for choices of vegan gifts and presents available.
We'd like to share some of our favourite vegan gifts today, all from ethical UK companies with sustainability at the forefront of their business. In this blog, we pick out some beautiful gifts and talk about how they are so much better for our planet than their high street counterparts. Read on to find out more.
Matt and Nat don't use leather. They don't like hurting animals and care deeply for the welfare of the planet. Leather is extraordinarily harmful to the planet. The chemicals used - including formaldehyde, coal tar derivatives and dyes- to tan the leather are not biodegradable; they contaminate the water supply and the local communities in contact with it. Leather production also uses massive amounts of energy.
But people often question the sustainability of fake leather products; they are plastic after all and don't last long, seemingly destined for landfill.
Matt and Nat use a variety of high-quality vegan materials. They have started to use PU, which is biodegradable.
The Purity collection has an outer body made from PVB, made of 100% recycled windshield glass resin. The linings are made totally from recycled plastic bottles - approximately 21 bottles recycled for every bag they produce.
Their products are made to last and are intended to be part of someone's life for years to come.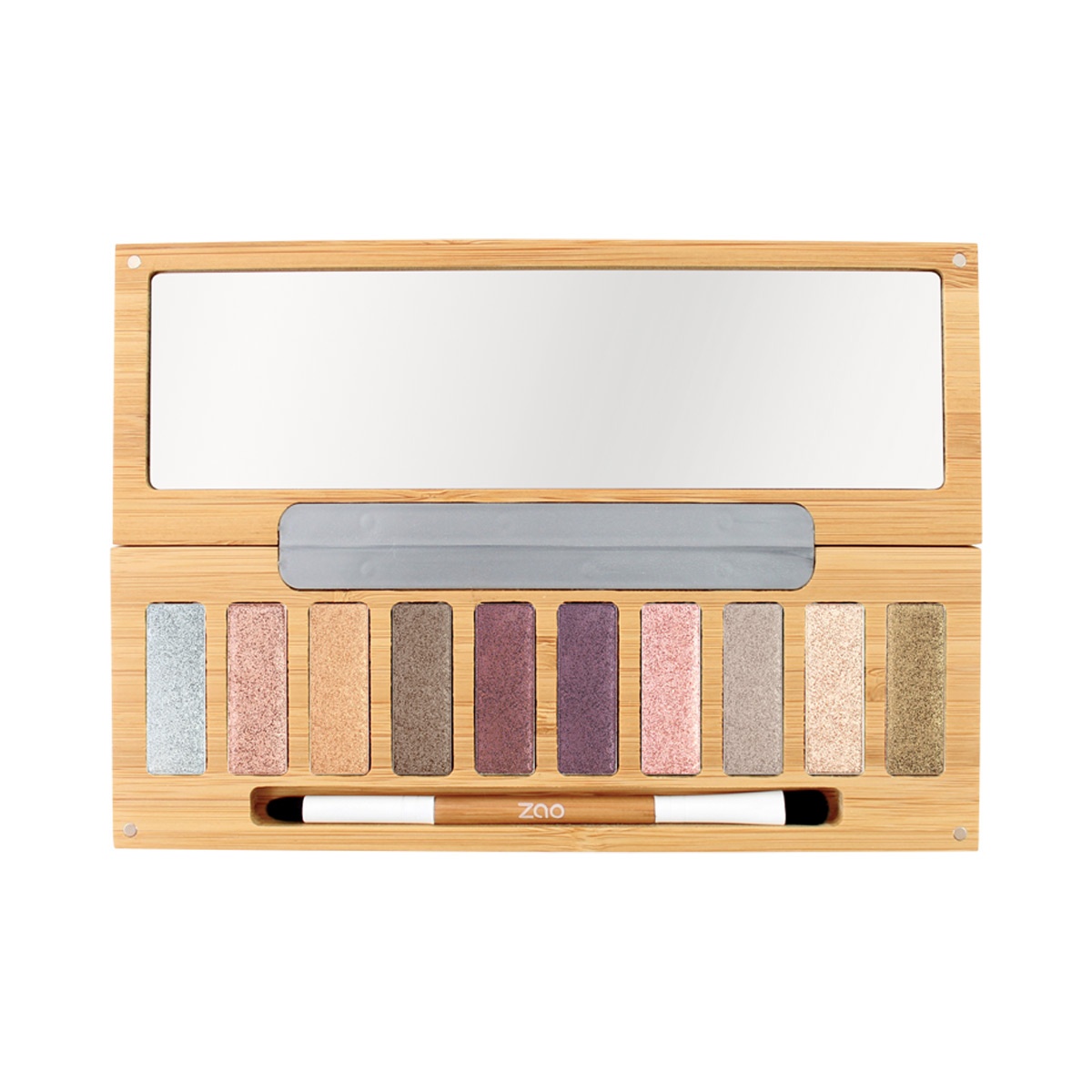 Makeup palettes, made of plastic and usually shrink-wrapped too, are thrown away after use. This is so damaging for the environment, especially when you consider that those discarded palettes break down into microplastics which pollute our waterways and harm the animals who use them.
At Peace With The Wild's makeup palettes come in a beautiful range of shades and colours, are made with natural, cruelty-free, chemical-free and completely vegan ingredients, making them kind and gentle to the skin.
But, even better, their palettes come in a bamboo case and are refillable, saving so much packaging going off to landfill.
They also put so much thought into how their products are wrapped, using 100% biodegradable cardboard, their logo stamped in non-toxic ink, and even the tape they use has a natural adhesive that's compostable.
Chocolate production is one of the industries that has a tremendous negative impact on the environment. The UK chocolate industry uses massive amounts of water and energy in its production and leaves lots of litter and plastic behind.
Coco Caravan makes exceptional luxury chocolates, buying their cacao directly from small producers. Their roots are in farming and environmentalism, and they do everything they can to source their products from producers who are committed to keeping the land healthy and the people who work on it.
Their chocolate factory runs on the most efficient equipment, using 70% less energy than their conventional counterparts, using Ecotricity, so they know their facility is powered by 100% renewable sources.
Their packaging is fully recyclable and biodegradable - no plastics around this chocolate. They also try to keep waste to a minimum by reusing or recycling their boxes.
Coco Caravan's chocolates are one of the best gifts for vegans.
This ethical company uses no plastics in its packaging. The cosmetics industry alone produces more than 120 billion units of packaging each year.
A luxury vegan gift, this pampering gift set includes everything anyone would need to relax and treat themselves. Aphrodite-and-Ares are dedicated to producing wonderful sustainable, eco-friendly gifts and have the least possible impact on the environment.
Their products are not tested on animals and are completely vegan. Their products are chemical-free and made with natural ingredients. The pampering sets are plastic-free, and they even use eco-friendly inks on their recycled paper labels.
Traditional jewellery uses many animal-derived products, the obvious ones being leather, pearls, shells, suede, etc. But most of us are unaware that the process of making jewellery uses many non-vegan products - things like rawhide hammers, leather sandbags and aprons, beeswax, cuttlefish bone, egg, chemical polishes and animal bone glues.
Talisman Kind doesn't use any animal-derived products in any part of the jewellery making process and uses recycled fine silver. Check out her range of vegan advocacy jewellery too. Her jewellery certainly makes a fabulous and original vegan Xmas gift.
Votch wants to make cruelty free accessories more readily available to all and to show that you don't need to be cruel to be cool.
They are always searching for ways to reduce our impact on the planet. With every order purchased on their website, they plant a mangrove in Madagascar. Mangroves are fantastic carbon sinks, stabilise the soil and improve the quality of the water. Planting these wonderful trees also provides a natural habitat for wildlife and an income for local villagers.
Votch's attention to detail on the harmful ingredients goes even further than just choosing not to use any animal derivatives. Their products are PVC-Free and use no plasticisers. They are also phthalate-free with no added antimicrobial chemicals, no flame retardants, no heavy metals, and includes recycled and renewable content.
If the person you are choosing a gift for is starting out on a low waste journey, this might just be the perfect present.
This starter kit includes all of the essentials and is perfect for the environmentally conscious. It covers all anyone needs for an eco-friendly bathroom to create a green beauty routine - everything from a bamboo toothbrush to reusable makeup remover pads.
You can be sure our products have been sourced and created consciously, creating a minimal social and environmental impact on their journey from raw materials to you.
And, if you're looking for gorgeous, eco-friendly wrapping paper for any of the gifts you have bought, check out our range of beautiful gift wrapping too.
Wild & Stone's mission is to create stylish, easy to adopt and usable alternatives to common plastic products around the home. We source all our products sustainably, from raw material to final delivery. Shop our wide range today.
Send us your pictures of the eco-friendly gifts you've found to hello@wildandstone.com or tag us on Instagram #wildandstone.
Leave a comment
Comments will be approved before showing up.